Copyright / GENESIS by Henriette Ebbesen,
Valdemar Mørkeberg and Jens Laugesen
THE TEAM /
KONSENSx responds to the current industry disruption and re/alignment with many brands needing to revaluate the status quo and develop future agile brand strategies.
The advisory unites senior consultants and fashion professionals, from design and collection management to sustainable procurement and strategic brand building.
The KONSENSx team members have worked in a wide range of senior and director roles for international clients in different areas of Fashion, Luxury, Agency, Lifestyle and Consumer goods.
We will all bring different practice and expertise to the analytical/intuitive holistic brand audit approach and help brands navigate the current chaos.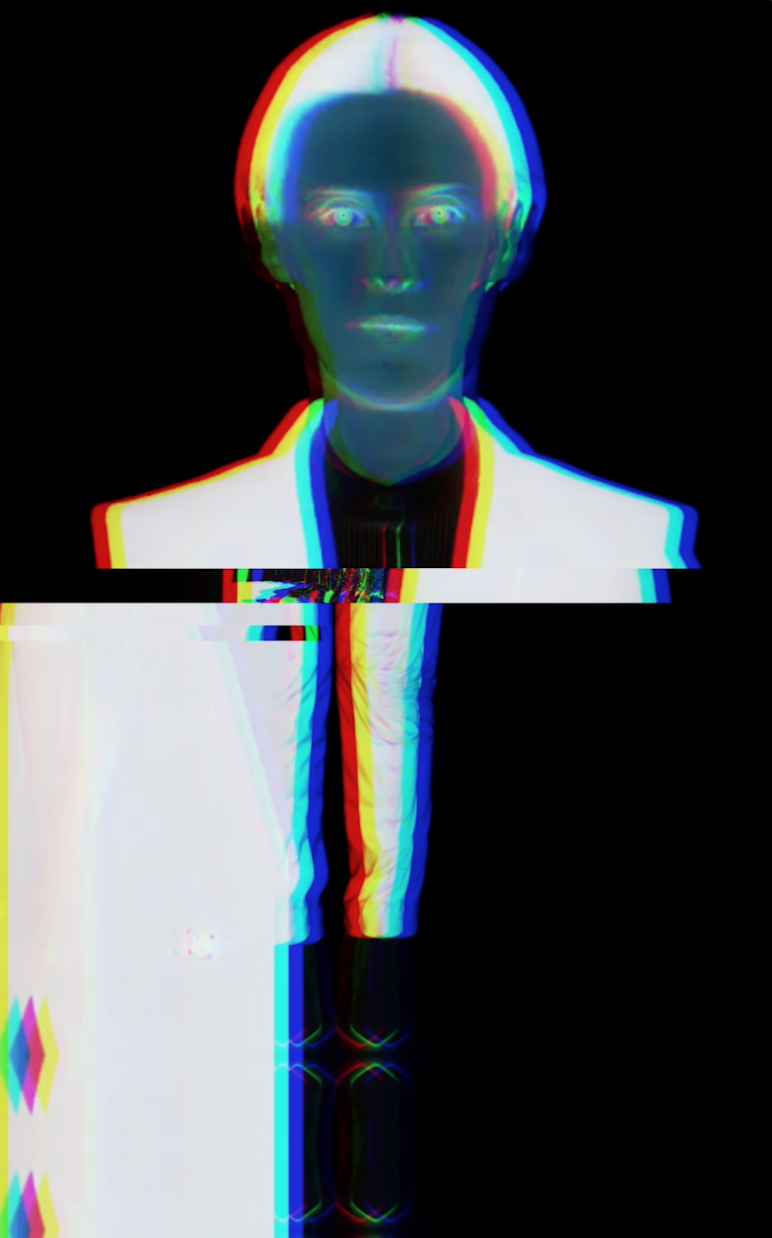 MULTIFACETTED /
The team have over the lifespan of their  careers worked for and collaborated with a diverse range of premium fashion and lifestyle brands, spanning international Luxury and textile groups, organisations, institutions and commercial  brands.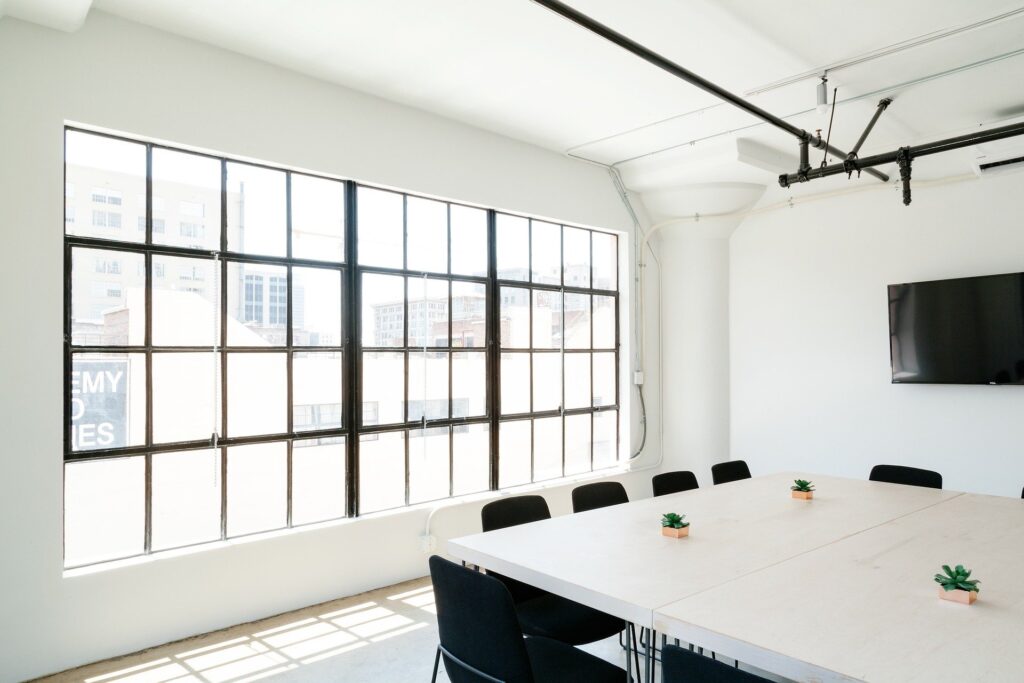 IN NUMBERS /
KONSENSx offer a flexible add-on creative package and modular partnership structure that will allow your brand to work with a selection of high profile senior expert team in different areas of Fashion, Luxury, Sustainability, Retail, Creative Marketing and Brand Strategy and Partnership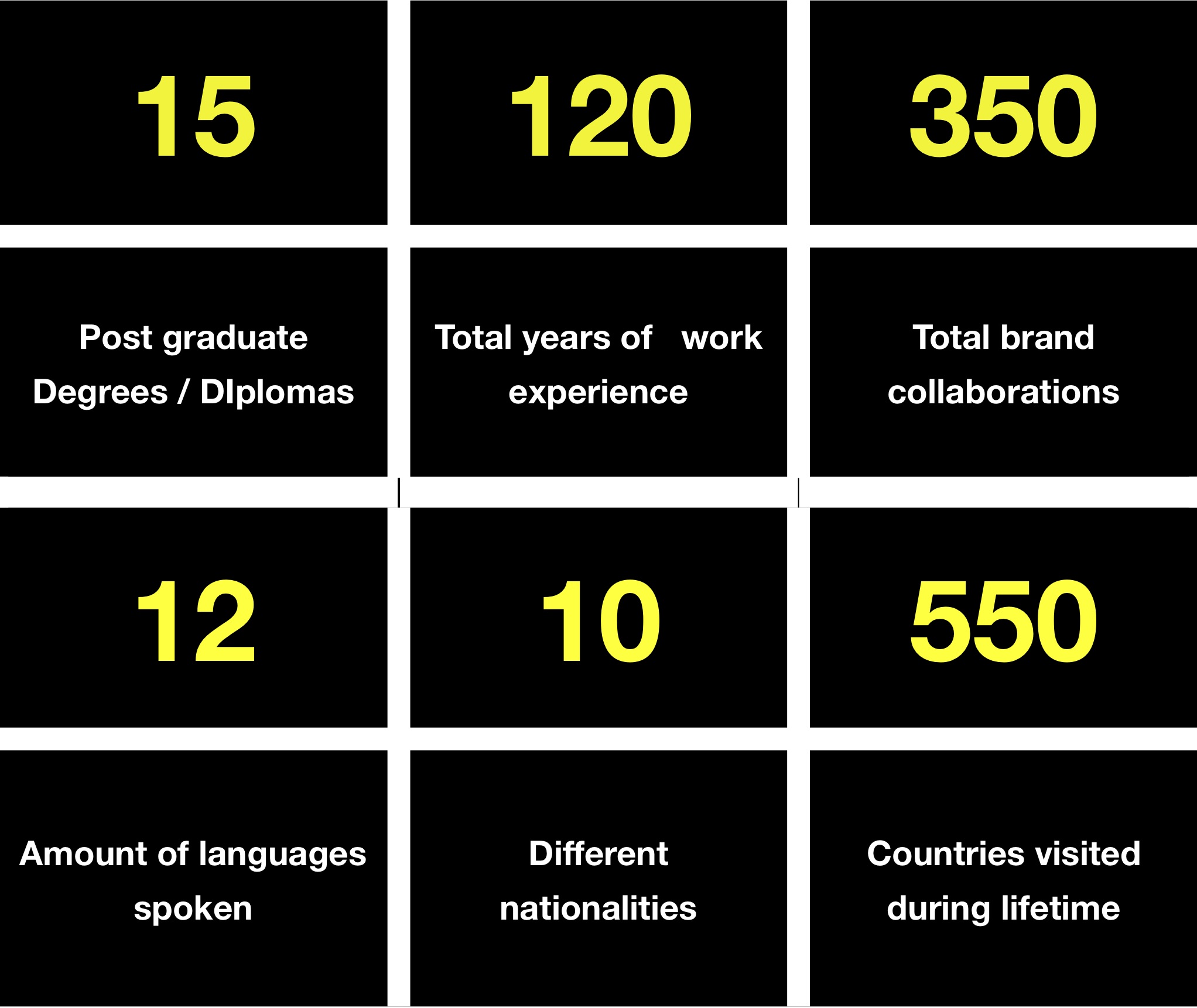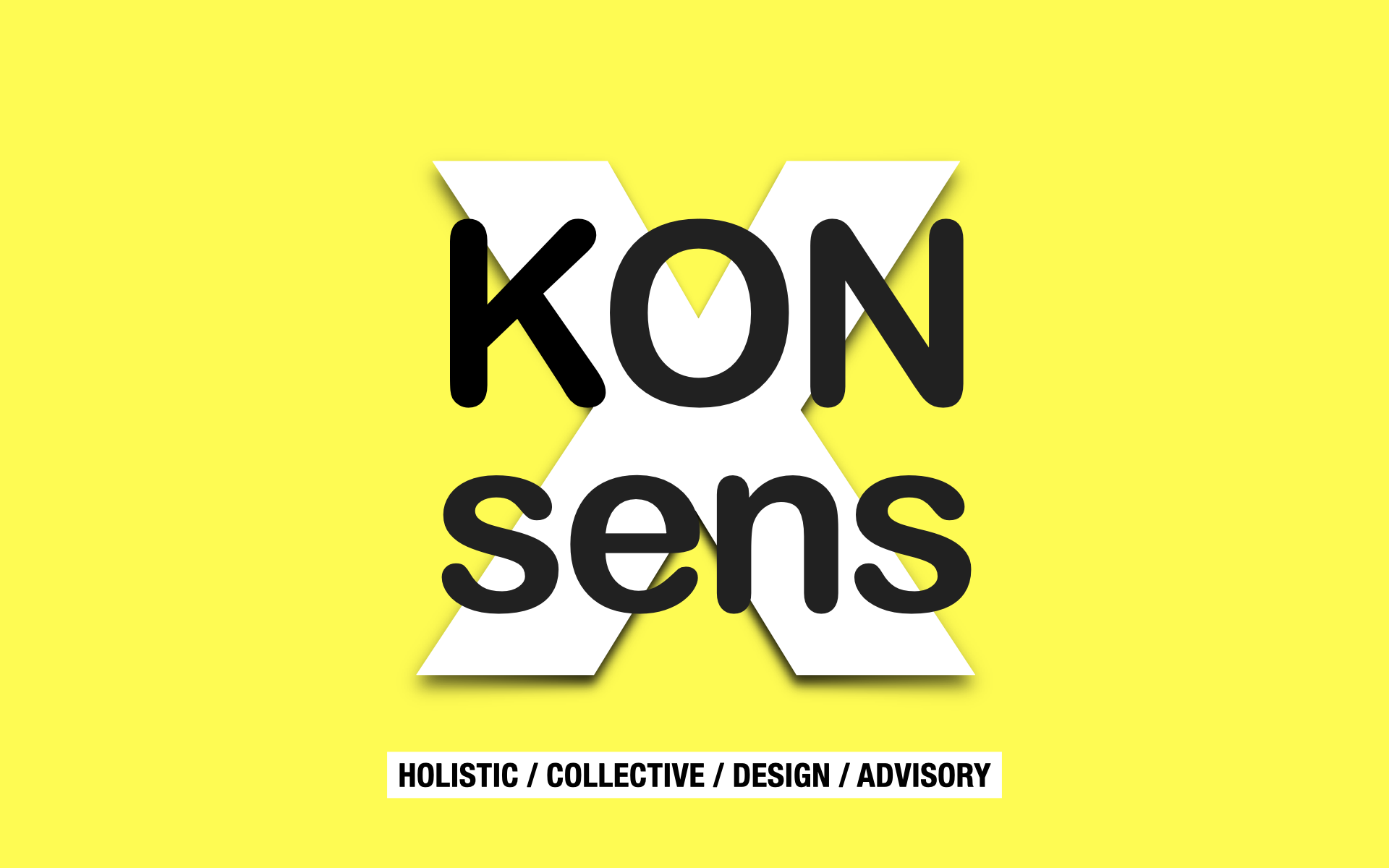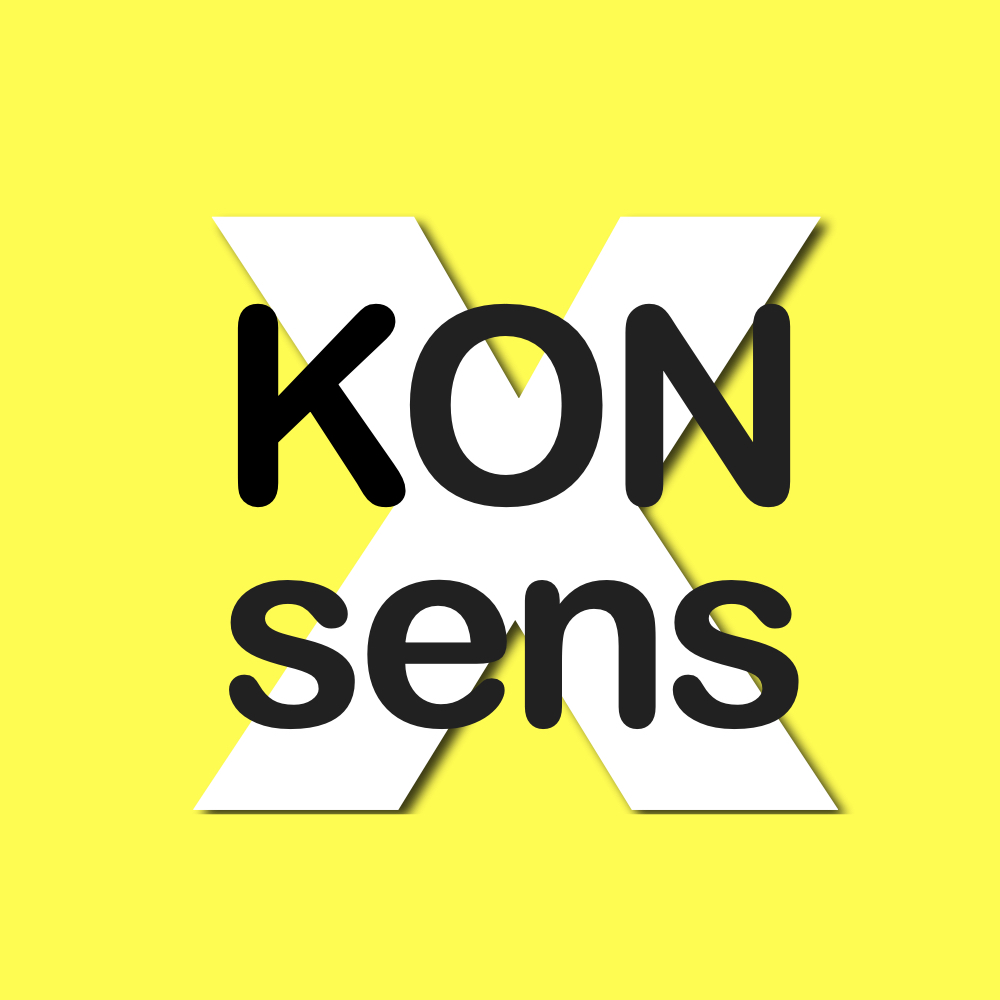 JENS_LAUGESEN/
Creative Director / Brand Strategist / Metaverse Tech  Advisor
Creative head and founder of the holistic KONSENSx Brand Advisory
Jens Laugesen is an award-winning versatile creative multi-tasker with a long career in Fashion, Luxury and brand building, developed from having worked for international design-led brands of all sizes. He combines strategic management with operational hands-on knowledge and a 360-degree holistic vision of brand building. His unique profile combines a Nordic vision and pragmatism with French theory and fashion knowledge. His eponymous brand was scouted by Rei Kawabuko for Doverstreet Market and selected by Anna Piaggi for the V&A whilst also being showcased on SHOWstudio. Today, his work is also featured in FIT Museum, New York, UCAD Musee de la Mode Paris and Designmuseum Denmark. Inspired by the pandemic shift towards digital the transformed most recently his creative craft to the metaverse with a first digital collaboration with  Virtual Touch and became a business member of the Metaverse Fashion Council delivering a keynote to the Metaverse Fashion Symposium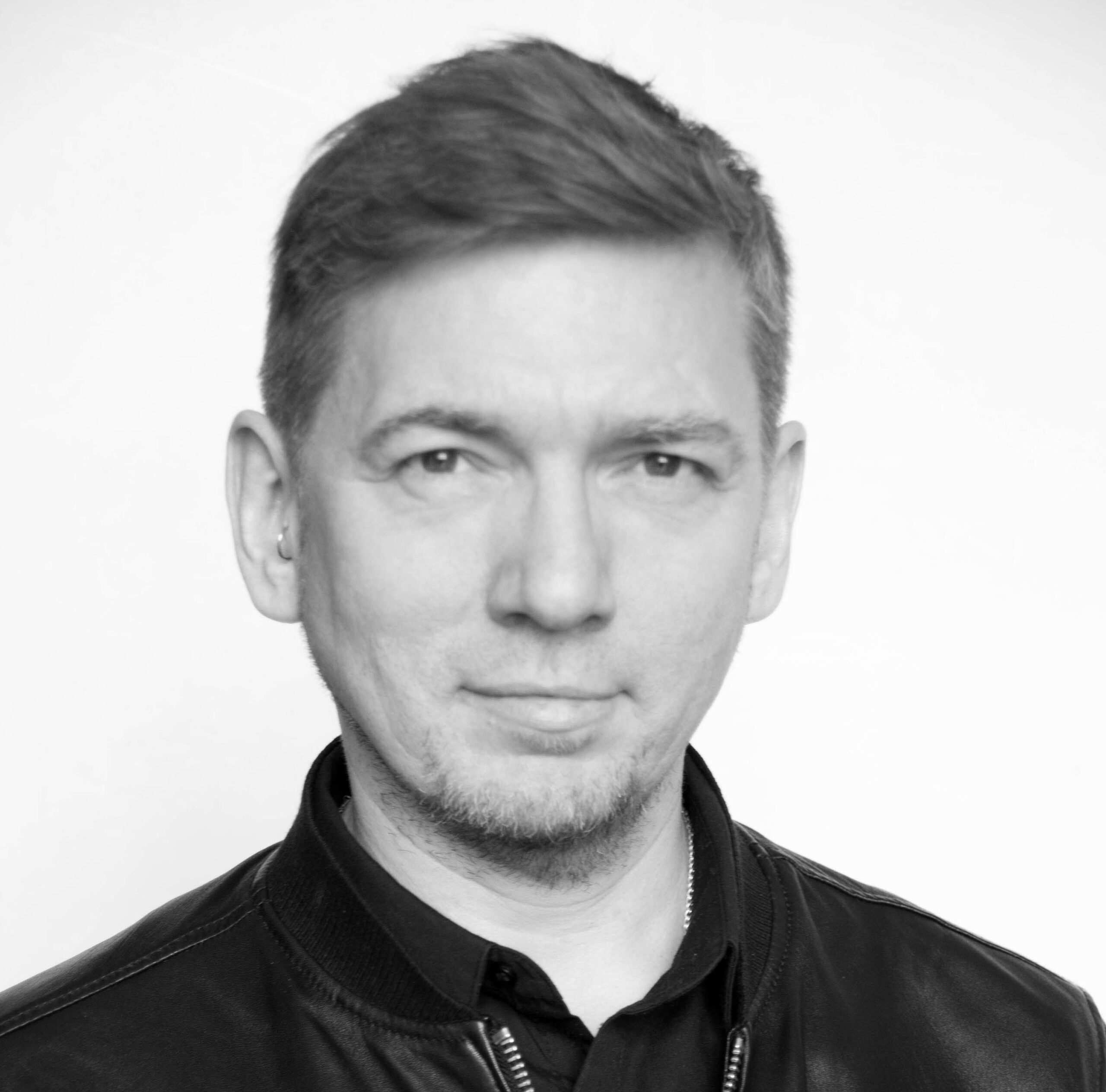 roles / responsibilities /
Brand_audit/
Concept_design/
Academic_lecturer/
Strategy_advisory/
Collection_development/
Design_direction/
Brand_development/
Brand_identity_re/design/
 Creative_direction/
 clients / collaborations /
CALVIN KLEIN COLLECITON /
GUCCI / J MENDEL /
NET-A-PORTER / YOOX / THE OUTNET / 
BESSINI TEXTILE GROUP /
DAPHNE GUINNESS / 
KOPENHAGEN FUR  / SAGA FURS /
LINDA FARROW / SWAROVSKI / 
LF (LG Fashion Corp) / MOGG / 
RENA LANGE / APOSTROPHE /
SPIEWAK / DAZED & CONFUSED /
S.N.S. HERNING / TOPSHOP /
ARTSTHREAD / DESIGNERS AGAINST AIDS /
GWAND SUSTAINABLE FASHION FESTIVAL /
i-D MAGAZINE / VICE MEDIA /
SHOWSTUDIO / 
ASVOFF / DIANE PERNET /
CHAMBRE SYNDICALE de la COUTURE /
INSTITUT FRNCAIS DE LA MODE /
ROYAL ACADEMY COPENHAGEN KADK /
UAL CENTRAL SAINT MARTINS / 
 MARIANNA_FERRO/
Digital Advisor / Management & Investment Advisor / Sustainability
With extensive experience in the design and implementation of innovative business models, Marianna Ferro combines a strong financial background in Investment Banking with a deep knowledge of industry sustainability practices and impact investment. A senior multifaceted advisor, she works with corporations, brands and management teams as an advisor and entrepreneurial partner: helping to adapt to economic and consumer shifts and introduce digital tools and strategies along the value chain to future proof their business to achieve financial and environmental sustainability. She has collaborated with some of the most talented people in start-ups, companies and government organisations while working across Europe, China, and South America.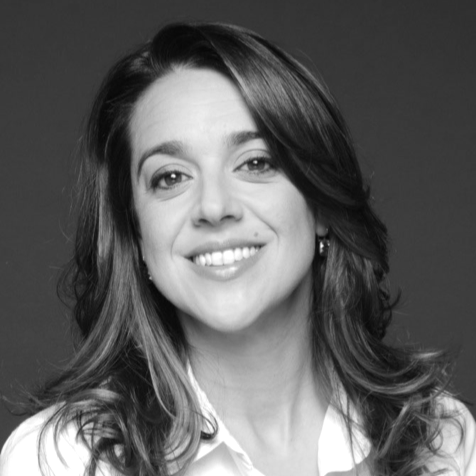 roles / responsibilities /
Head_of_Fabrics/
Textile research/development/
Sustainable sourcing/
Procurement/strategy planning/
 Sustainability_audit/
Sustainable_research/
Associate_lecturer/
brands / collaborations
CLERICI TESSUTO / GIRANI /
SOLBIATI SASIL / RATTI DONNA
ELITIS / CMO PARIS / NOBILIS FONTAN /
BOUSSAC DECORATION / DFID / DEFRA /
COMMON OBJECTIVE / 
ETHICAL FASHION FORUM /
LCF CENTRE FOR SUSTAINABLE FASHION /
UN / INTERNATIONAL TRADE CENTRE /
LANVIN / ALBER ELBAZ /
STELLA McCARTNEY / GRUPPO GUCCI /
GRUPPO FINPART / MASKA / CERRUTI /
ISTVAN FRANCER / AQUASCUTUM /  
COMMES DES GARCON / CHANEL /
TAKISADA / ITOCHU FASHION SYSTEM /
KARL LAGERFELD / OLD ENGLAND /
YVES SAINT LAURENT /
FARMACIA SANTA MARIA NOVELLA /
LA REDOUTE / DISNEY /
UAL CENTRAL SAINT MARTINS /
CHAMBRE SYNDICALE DE LA COUTURE /
ROYAL COLLEGE OF ART / IFM 
ANNE_VERREPT/
Global Brand & Business strategy /
Anne has a global track record in brand value creation, business change and market growth for employers and clients including FORTUNE100 companies in the FMCG, Film & TV, Luxury, Arts and Non-Profit sectors. Combining analysis and insights, she will boost your cultural synergies, social buzz and audience reach through high profile brand partnerships, IP development and copyright licensing.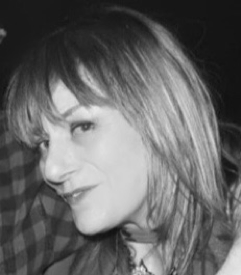 roles / responsibilities /
Strategy_Audit/
Brand_Partnership/
Sponsorship_Strategy/
Luxury_Brand_Advisor/
Head_of_marketing/
Brand_Expansion/
brands / collaborations
MASTERCARD / AMERICAN EXPRESS /
BARCLAYS WEALTH MANAGEMENT /
MCDONALD'S / COCA-COLA /
P&G / KELLOGG'S / HEINZ / VIRGIN
TIME WARNER / CARTOON NETWORK
CNN / BBC WORLDWIDE / CHANNEL 4 / 
CHRISTIE'S / PHILLIPS AUCTION HOUSE /
SOMERSET HOUSE /
THE WALT DISNEY COMPANY / LEICA /
DIAGEO RESERVE BRANDS /
MOËT HENNESSY / SNOW QUEEN VODKA/ 
BROWNS / FAMEED KHALIQUE  /
FORTNUM&MASON / VANITY FAIR
BRITISH JOURNAL OF PHOTOGRAPHY
THAMES & HUDSON / RIZZOLI / GQ
MAKE-A-WISH FOUNDATION /
POSITIVE VIEW FOUNDAITON /
ASVOFF / DIANE PERNET /
STEPHEN_MILNE/
Business planning and change strategy/
Stephen has over 30 years of experience in business planning, executive management and mentoring at board level. His senior expertise includes navigating business building and change for innovative start-ups and global brands. Stephen has a long career in private banking, government agency and higher education. He is a strategy director and has led business planning as a strategic counsellor. He specialises in business strategy, innovative brand development, business planning, strategy advisory, contract negotiation and international dispute resolution.
.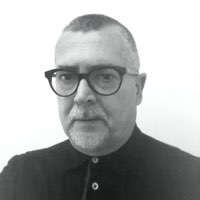 roles / responsibilities /
Business_Plan/
Business__Strategy/
VP_of_Sales/Marketing/
Business_ Consultant/
International_Sales/
Legal_ Advisor/
 brands / collaborations
ATELIER 1 CONCEPT STORE /
ANNIE SLOANE INTERIORS Ltd /
DANIELLE RYAN / ROADS LUXURY GROUP /
EAST LONDON SMALL BUSINESS CENTRE /
THE OPEN UNIVERSITY /
AYLESBURY ENTERPRISE HUB /
COMME DES GARCON /
LONDON FASHION WEEK /
MARY PORTAS/ XAVIER FOLEY  /  
OPOTOMEN PRODUCTION FOR BBC /
BRITISH FASHION COUNCIL /
ERDF  / PHOENIX FUND /
STEPHANIE_COOPER/
Fashion concept researcher / Academic /
Stephanie is a Fashion Design and Research consultant with a strong profile in fashion education as Pathway Leader at Central Saint Martins on the Fashion Design with Marketing BA course. Stephanie is an obsessive researcher, maker, collector, curator  and archivist and has a wide experience in designing both for herself and within design teams internationally, spanning diverse aspects of the fashion industry, working in design teams in the UK, Italy and Japan,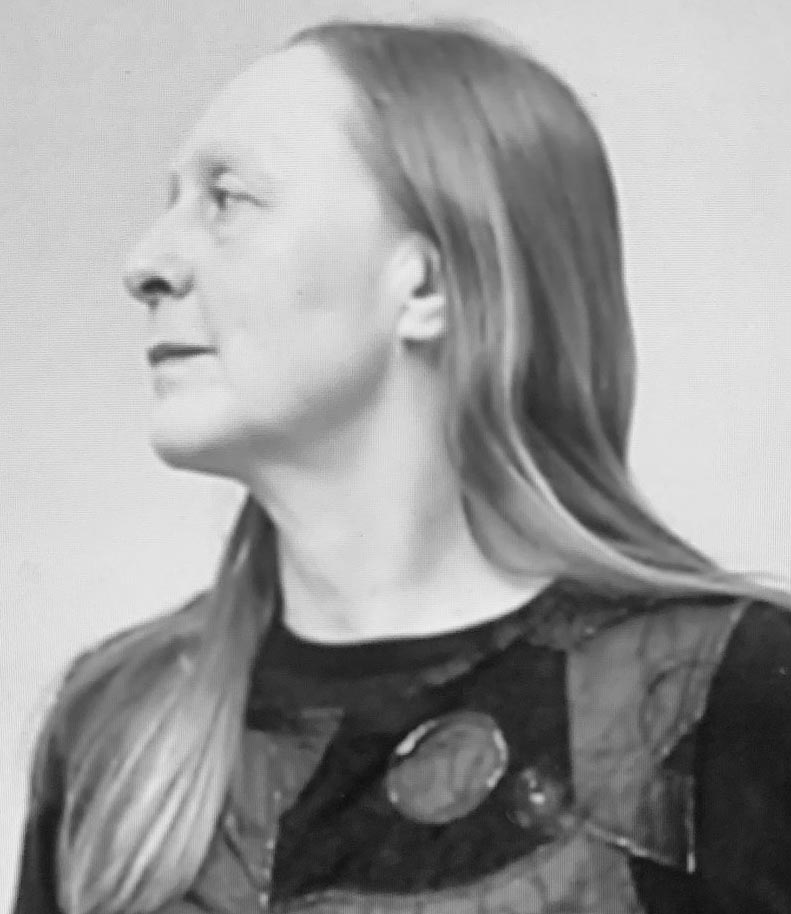 roles / responsibilities /
Course_leader/
Fashion_researcher/
Creative_consultancy/
Creative_team_builder/
Design_advisory/
brands / collaborations .
10 CORSO COMO / ALBERTA FERRETTI /
OGURI JAPAN / STUDIO M /
SONJA NUTTALL / ANNIE LENNOX /
UAL CENTRL SAINT MARTINS /
WESTMINSTER UNIVERSITY /
CHAMBRE SYNDICALE de la COUTURE /
ROYAL ACADEMY COPENHAGEN /
FATE FASHION AND TEXTILE ARCHIVE /
BALENCIAGA MUSEUM /
PAST BRAND COLLABORATIONS /
Our accumulated industry experience arrives from having collaborated internationally with a wide range of global brands, organisations, start-ups and expansion ready companies of all sizes.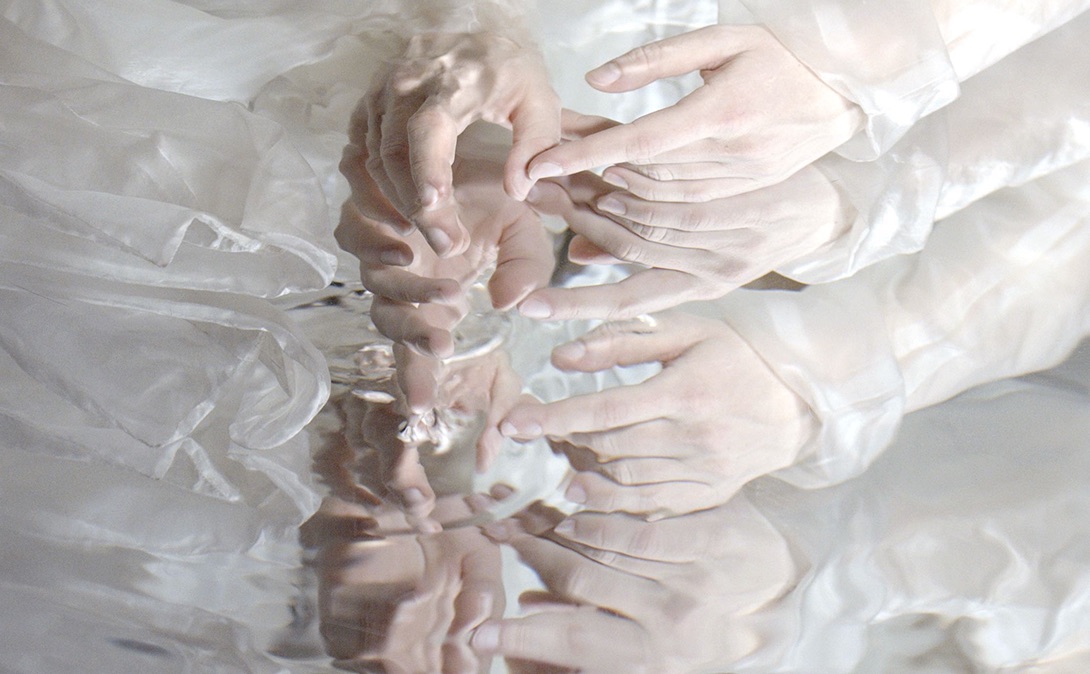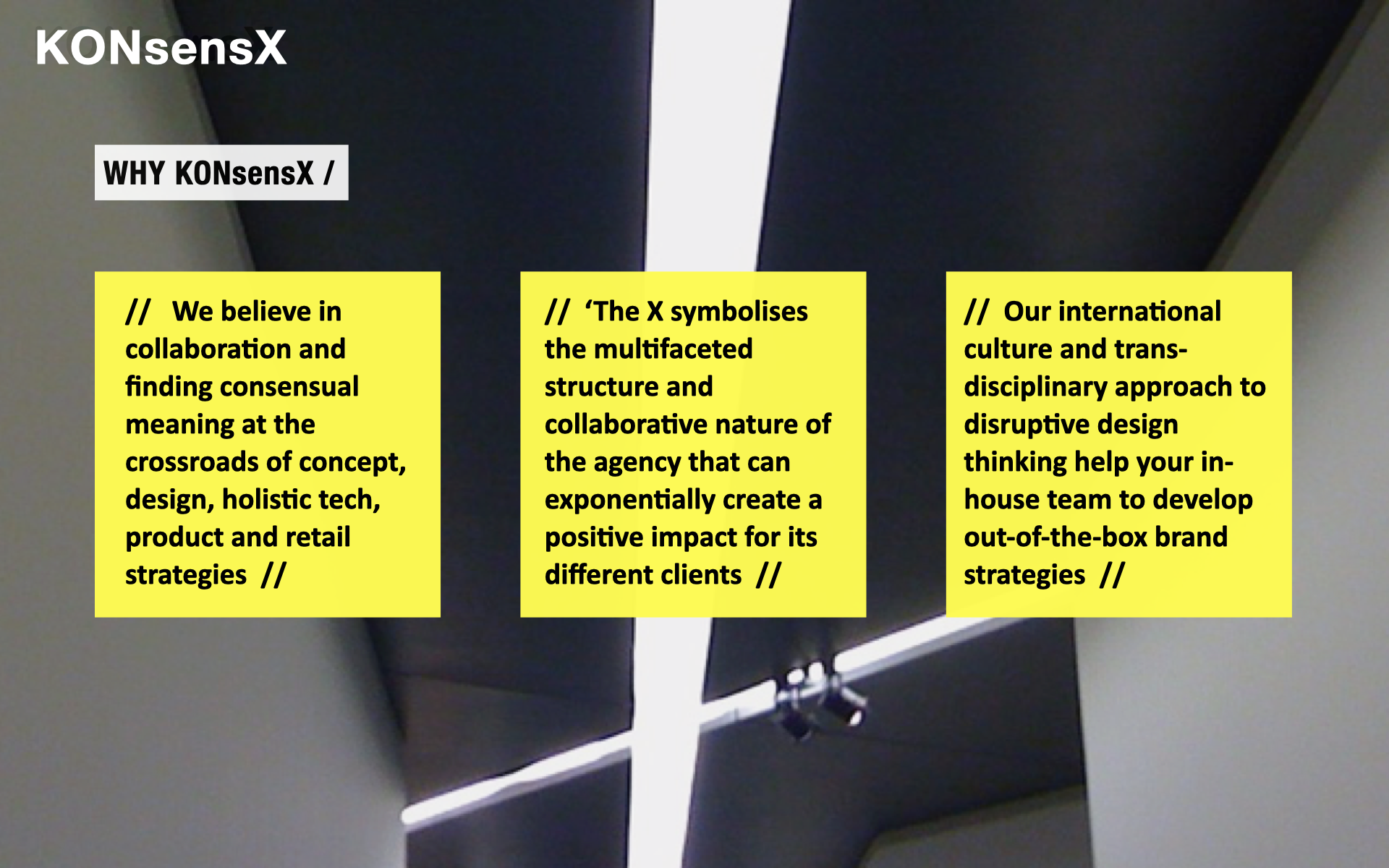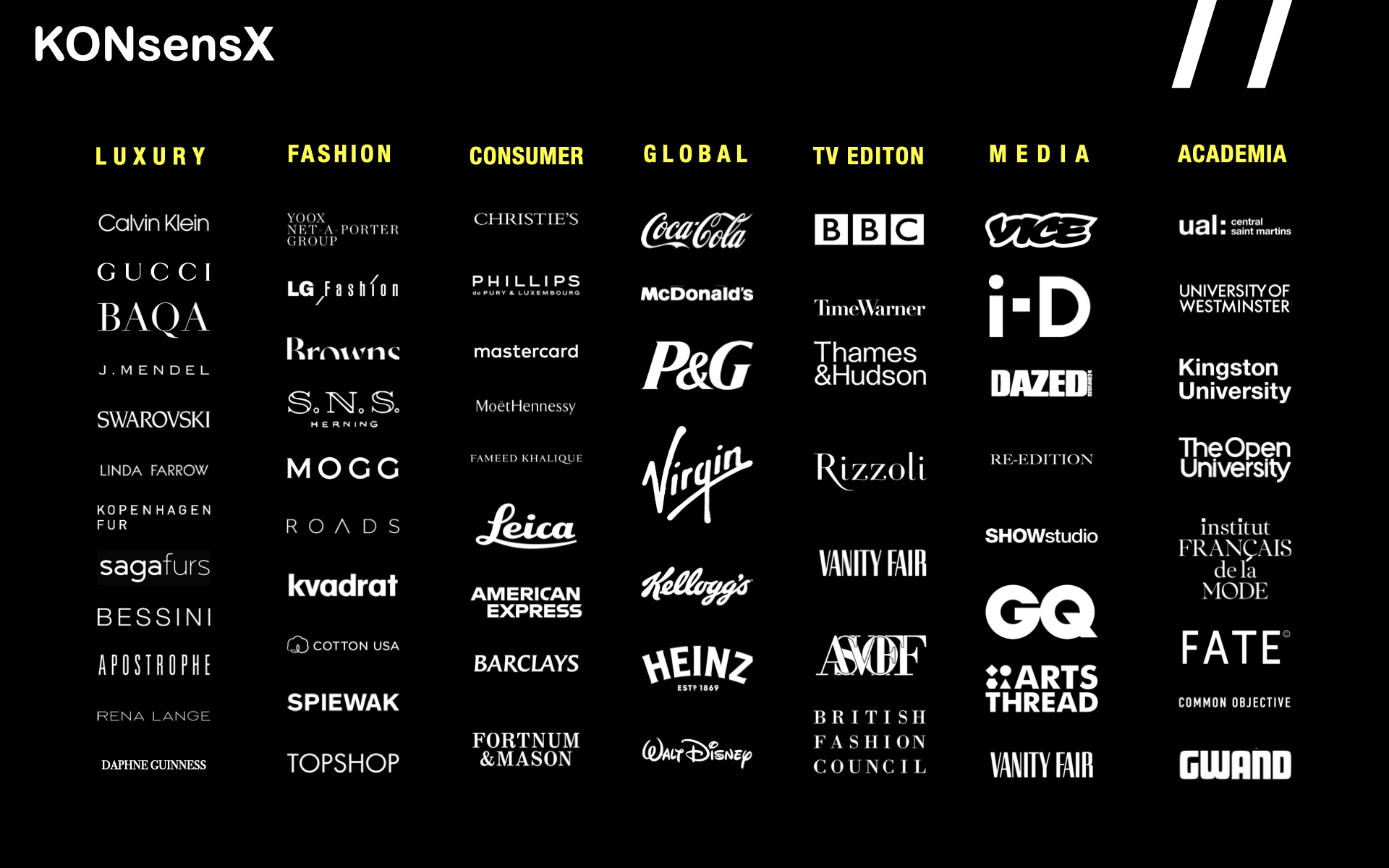 1 / INTRODUCTION /
If interested in learning more of our methods please leave an INTRO MESSAGE below  so we may send your more information about KONSENSx and the CREATIVE SERVICES we offer.
2 / BRAND Q&A /
Following this initial contact, we will forward further agency info and a BRAND INTRO Q&A that will help us understand your brand better and outline the areas you would like to discuss.
3 / DIAGNOSTIC CALL /
Once we have reviewed your Q&A, we will schedule a complimentary DIAGNOSTIC CALL to discuss your case further, allowing us to send you a TAILORED PROPOSAL.
4 / PROPOSAL /
Following the diagnostic call, we will create a BESPOKE PROPOSAL tailored to the budgets, specific challenges and STRATEGIC PROJECT you are looking to develop.